Shop Screamers

SCREAMERS DVD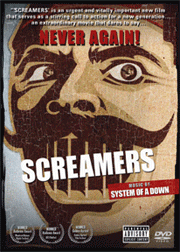 OWN IT NOW—IN STORES NATIONWIDE SPECIAL FEATURES INCLUDE:
- Going Backstage
- Bonus Song: Question!
- Press Conference
- Grandfather's Village
- Hrant Dink in Memoriam
- Where Did We Come From?
- Armenian School
- Spiral Into Flames
- Trailer

SUBTITLES:
- Spanish
- French
- Armenian (Eastern)
- Arabic
- English Closed-Caption

AUDIO EXTRAS
- Educational Version (strong language omitted)
- 5.1 Sound
- Director's Track


LIMITED EDITION COMMEMORATIVE GLASS PENDANT
Make a Statement—Wear the Pendant—Stop the Cycle of Genocide

"The spiral sybmoblizes power and independent movement. The spiral flows into fire.
As a single flame burns on in the memory of a loved one, these flames rage on in the memory of the many. As glass never deteriorates, this fire burns on eternally."
Donna Eichholz, International Glass Artist

The proceeds from the sale of this limited edition pendant go towards purchasing school-system safe DVD copies of SCREAMERS for school libraries worldwide. This educational campaign is supported by the ANCA (www.anca.org). To order a pendant, please go to "www.flaminglass.com"